Off-leash Downtown Dog Park.
Over my 90 years, I have shared my home with 16 different dogs, – large, small, and many of Heinz 57 varieties – but all of them have been my close and loyal friends.
Buddy, an energetic golden retriever mix with a penchant to chase a tennis ball into eternity, lived with me in my downtown townhouse without a space to expend his energy. Lisa Goodman, my friend and seventh ward Council member, also had a large active dog – Sadie Rose. Sadie Rose was also a Downtown resident without exercise space.
Where to exercise the dogs?
Almost every day and early in the morning the four of us, Buddy and Sadie Rose, Lisa – the elected city officer, and I, hiked-somewhat surreptitiously, over to the Loring Park tennis courts where signs clearly stated that dogs were not allowed. At those very tennis courts the dogs proceeded to chase balls illegally thrown to them by people who clearly knew better. But what was the alternative downtown?
Lisa and I spent many hours trying to identify an off – leash exercise space for our four-legged friends. Our quest was, unsuccessful. At that point Buddy barked to Sadie Rose "so when are these so-called community leaders going to go beyond eating and sleeping with us? We need space to exercise, play and socialize and in a legal place!"
Still searching, we wondered whether Loring Park might be an acceptable solution. Lisa felt that the Minneapolis Parks and Recreation staff would quickly veto the idea (actually the loudest opposition came from human "squirrel lovers"). Jon Gurban, The MPRB superintendent, was immediately supportive of the dog park idea. We negotiated a 10 year lease for space in the north east corner of Loring Park – adjacent to the Minneapolis Community and Technical College. The lease specified that the park board would not be required to provide any financial support for construction or operations.
With the lease in hand, a newly formed dog lovers group began planning a "dog and people place that would complement the nearby neighborhood, the community college, Loring Park, and the natural and artistic elements of the surrounding area."
Instead of bringing in some traditional manufactured Benches, we paid to bring in large rocks to fit into Loring Park, for humans to sit on and for dogs to leap over.
We brought in the bridge to EREWHON (nowhere spelled backwards) referring to the Samuel Butler book about a place where monsters duel and beauty and health are everywhere. Dogs cross the bridge endlessly – to nowhere.
With the financial help of our contractor Kraus Anderson, we installed a handsome wrought iron fence.
The main feature/centerpiece of the dog park is the dog sculpture. We found a talented chainsaw sculptor in Hinckley Minnesota who carved from a single pine panel a marvelous piece of art – seven dogs sitting on top of each other – a tribute to our canine friends. Buddy and Sadie Rose are two of the seven dogs. The dog sculpture is mounted upon a massive steel pedestal.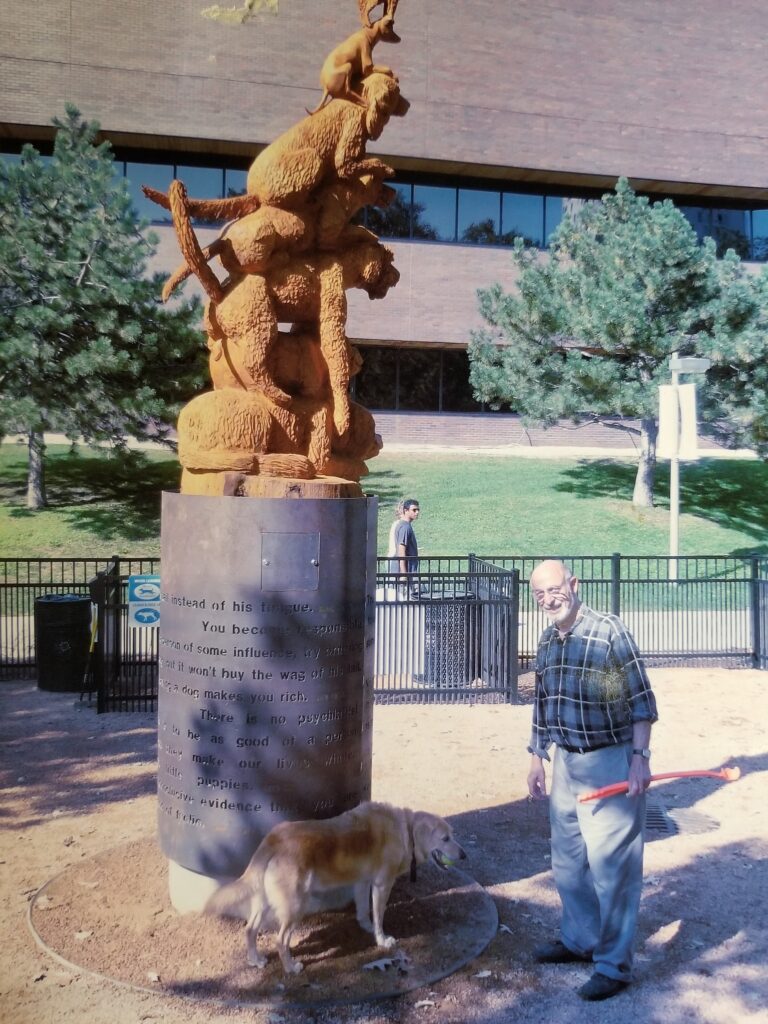 The brilliant developer of the Downtown dog park (me) and one of the senior architects of an outstanding architectural firm (HGA) decided the dog park needed a drinking facility for the dogs. We determined that the pedestal could also serve as a water tank to supply water for thirsty dogs – with water coming out all around the base of the pedestal – similar to a horse watering trough.
However, the brilliant developer and the senior architect didn't realize that dogs are not horses! The dogs, instead of drinking the water, proceeded to urinate and swim in the trough.
"Finally" Sadie Rose squealed "our friends have listened! They feed us and sleep with us but we have needed a place to run and play with our friends (liberals and conservatives) – we get along with practically everyone regardless of their color or background. Now, we can run and play downtown; we even have a place to swim and then mark the spot. If only our human friends would stay out of the way."
And so, the downtown off-leash dog park in Loring Park is open for all four-legged Downtown residents and their two-legged leash holders. This park meets all of their exercise and socializing needs and is a natural and artistic gem, a community amenity of which Minneapolis can forever be proud.