Before the existence of a fancy TV set or more than one in every home and long before the availability of movie theaters with wide, reclining seats, special futuristic sound and vision gimmicks – priced along with food treats at almost unreachable cost – was the Movie Theater – a coveted family experience – or for a "cheap date" – or for a really special occasion. Back then, we eagerly looked forward to the "flicks."
Movie Theaters (with a few exceptions) were uncomfortable, with limited leg space and narrow seats. Every third seat had a piece of well chewed (somebody else's) gum attached somewhere on the seat or on the floor exactly beneath the current occupants left foot. Popcorn was cheap, and noisy. The air conditioning worked intermittently; many viewers watched multiple performances of the movies (in order to avoid the summer heat).
Back then, we overlooked the physical conditions of the venue – and focused on the movie and the stars such as, Steve McQueen, Dorothy Lamour, Rita Hayworth, and Humphrey Bogart. In addition to the feature film (before TV and iPhones) we usually received three eagerly awaited extras – a news clip about the most recent world news events, a sports clip featuring the most exciting recent game or race, and a short comedy such as Bugs Bunny or the Road Runner.
Prices ranged from 25 cents at the neighborhood theaters to a lot more – probably two or three dollars at the first run downtown theaters.
Where were the theaters back then? Most of the downtown theaters were on Hennepin Ave. – The Orpheum, State, Lyric, Pantages (also called the Mann), and Gopher. Several were on North 7th St. – The World, Alvin (later renamed Academy, and renamed Schubert. (The Alvin, in its burlesque days had a separate entrance to the second almost vertical level for citizens not welcome on the first floor). The Century theater was also on 7th St. Probably the fanciest of all of the theaters was the Radio City Theater which was located at 9th St. and LaSalle.
Neighborhood theaters carried re-runs of the first runs of the downtown theaters. Unlike the downtown theaters where the movie goers usually dressed up for the event. – the neighborhood theaters were much more casual – and cheaper – even had Saturday matinees. The Uptown and Granada were in Uptown, The Westgate at 43rd and France, The Boulevard and Parkway in South Minneapolis, The Homewood on Plymouth, the Capri in North Minneapolis, Ritz in Northeast Minneapolis, Campus and Varsity near the U of M campus.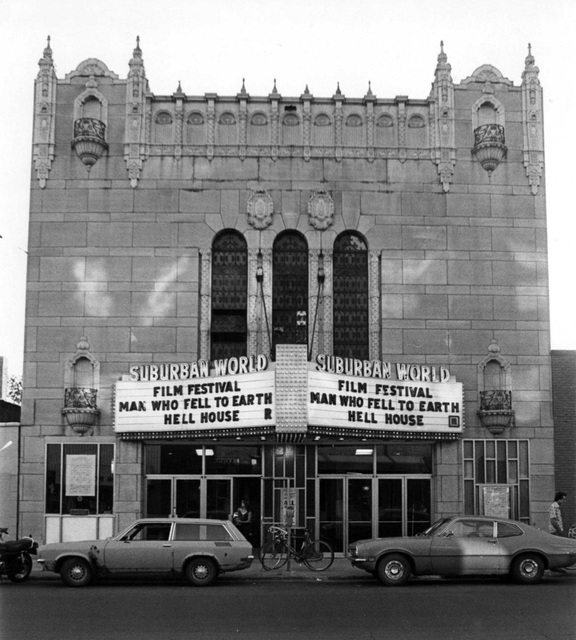 In addition to the above, Ferris Alexander opened several risque adult only theaters – including the Rialto and the American.
Movie theater goers also regularly attended the Edina Theater at 50th and France, the St. Louis Park Theater on Minnetonka Boulevard and the Terrace on West Broadway. Finally this was also the Drive-in Theater era with car loads attending the Mann France and other drive-in theaters.