There was a time, not too many years ago, when all travelers arriving in or leaving Minneapolis traveled by train. After WWII, in the 50s and 60s, travelers gradually began flying in the now obsolete DC3's. The train was still dominant, and cheaper, and more comfortable.
There were two train passenger stations in Minneapolis – the Milwaukee Depot at Washington and 3rd Ave. and the Great Northern Station at 3rd St. and Hennepin Ave. (where the Federal Reserve Bank is now located) and next to the Berman Buckskin building.
Trains coming to the Milwaukee Depot moved through south Minneapolis and crossed Washington Ave. over the 10th and Washington viaduct. The Washington Avenue viaduct was a never ending nightmare for vehicles moving on Hennepin Avenue. Washington Avenue was steeply depressed under the viaduct but not enough for tall trucks which regularly were crushed for lack of clearance. Also, after heavy storms the depression under the viaduct often became a small lake and stalled all traffic. The viaduct was removed as soon as train use at the depot was discontinued.
Trains whose destination was the Great Northern station, rumbled through SE Minneapolis, through the gorge (the depressed part of Dinkytown) and then crossed the Mississippi via the Stone Arch bridge (yes, the Stone Arch bridge was constructed for trains only and used only by trains!). Trains then continued behind the main post office, across Hennepin Ave. into the Great Northern station. The lowest level of the post office was built with a large space with multiple large doors to serve train passengers and pedestrians along the river. I don't believe the space and doors were ever used.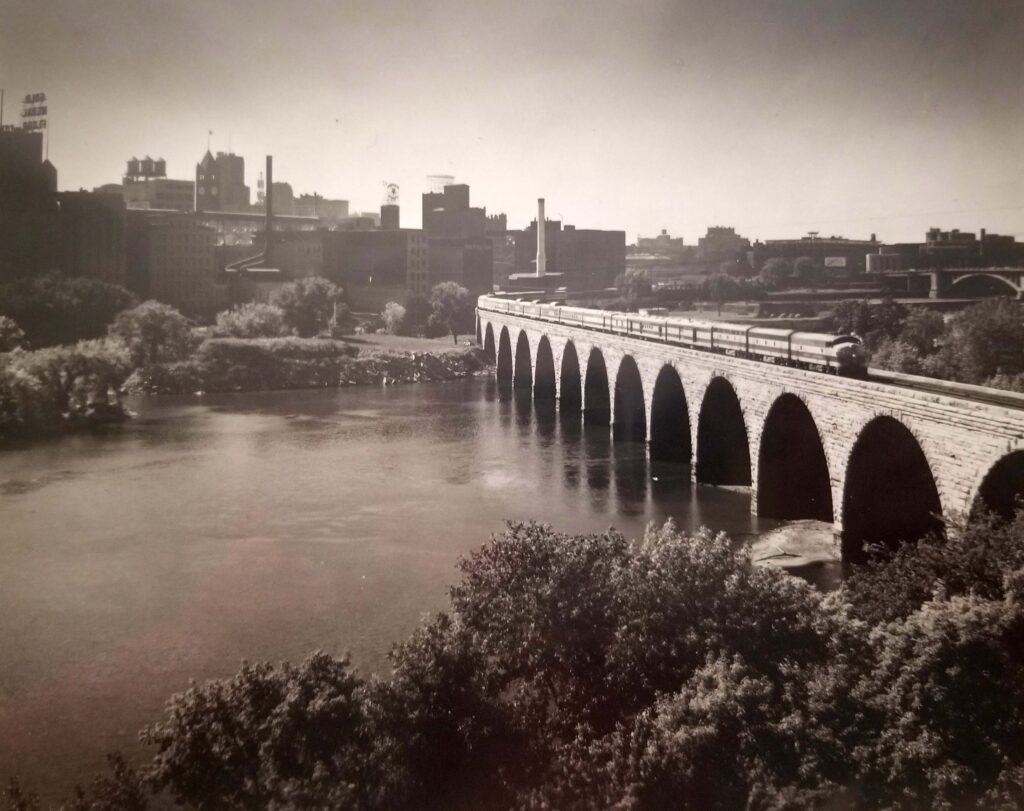 ---
During the train dominant era, trains to anywhere were numerous, timely, and affordable. Everyone carried their own suitcase (this was before a genius invented a suitcase with wheels) or they called for assistance from a Red Cap – predominantly African American men. The greeting public mixed with the arrivals – causing a temporary human traffic jam. Trains like streetcars were not handicapped accessible.
The Hiawatha, the Burlington Zephyr, and the 400 (400 miles in 400 minutes) offered daily service to Chicago. These trains offered meal service and true comfort, and relaxation.
The Empire Builder traveled to the northern part of the west coast. If a traveler wanted to reach California it was necessary to take a train to Omaha or Chicago and transfer to the Challenger or Union Pacific.
Gradually, passenger train use diminished and the Amtrak system took over. Most travelers switched their allegiance to the airline industry.