I don't pretend to understand the new language that has evolved in the most recent decades – "browser, download, Facebook, Instagram, the Cloud etc. etc."
However, my memory is filled with relics from the past – where we worked, how we lived, what we wore, where we ate, how we received and paid for goods and services and so much more. It would be a shame to let this past lore disappear. The following is a sampling of some of these remote relics which now seem almost medieval.
I remember:
Daily milk delivery in glass bottles by Norris Creameries, Northland Milk Co. and Ewald Brothers Dairy.
The predecessor of Office Max, Farnham's, located on 5th street across from City Hall. Farnham's sold everything – paper, legal forms, office furniture, mimeograph machines, primitive answering machines etc. (pre computers and iPhones and today's technology).
Green stamps and Gold Bond Stamps (a piece of the Curt Carlson empire). These stamps were given out with various purchases and allowed the holder to purchase merchandise with this "community currency" adding value to the original purchase.
The Munsingwear building on North Lyndale (now International Market Square), a large manufacturing co. of t-shirts, underwear etc.
Before Lunds & Byerly's, Cub, Kowalski's, and Whole Foods, shoppers bought groceries in the neighborhood at Red Owl, Country Club, Red and White, Hoves, Stillman's and Piggly Wiggly.
Twice daily newspaper delivery – and the paper boy rang the doorbell often to receive his payment – usually around $3.20.
Until the fifties the only fast food restaurant was White Castle.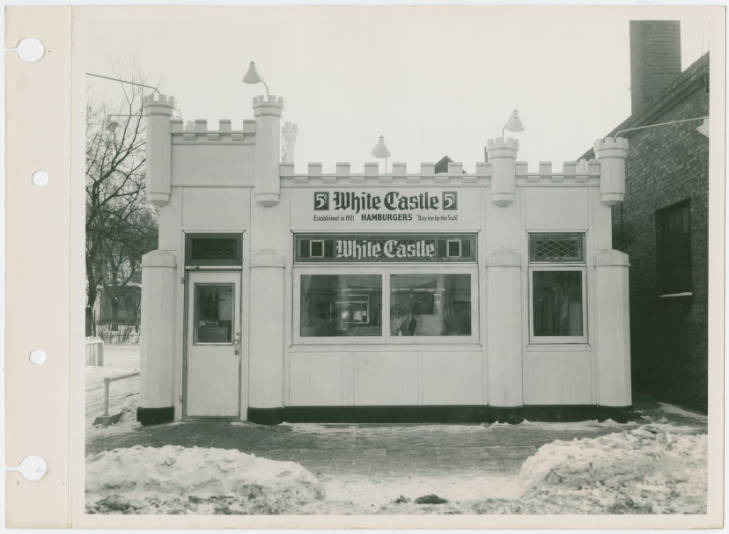 Before credit cards we paid for all purchases with CASH! Pennies and nickels were important (we even picked them up from the ground!.) Credit cards have replaced cash and are now the "Coin of the Realm."
Holtzerman's at 314 Cedar Ave. Trim and proper, J.D. Holtzerman limped around his store in full dress Swiss or German garb – selling German, Swiss and other European gifts.
Free delivery. Many department stores had their own fleet of delivery trucks – offering free delivery of any products sold in their store. They also sent monthly invoices in their own logo envelopes.
"Service Stations" – not solely gasoline. The customer purchased gasoline and then the attendant checked the oil, checked the air pressure in the tires and even cleaned the windows – while the customer sat in the car – rain or shine!
Tower Club on the top floor of the IDS Building – a restaurant with a view of the world. In the men's room the urinals had a view of the world (and vice versa) – no curtains.
More memories in a future edition
Image source
(n.d.). Retrieved January 20, 2021, from https://ohiomemory.org/digital/collection/p15005coll29/id/705/